Adjacent ecosystems form complex and diverse mosaics on the landscape. Forests, wetlands, bottomland hardwoods, agricultural fields, streams, rivers, and lakes, combine to form biologically diverse and ecologically complex watersheds. Golf course design and management should not override or alter the natural processes of golf courses. For example, chemical cycling occurs constantly and is key for ecosystem stability. Complex feedback loops involving plants, animals, soil microorganisms, decaying litter, and soils control losses of essential elements. Natural ecosystems function because of their complexity, which builds stability in these systems.
Chemicals can have an important impact on the ecosystem. Ecosystems use energy to assimilate chemicals into new biological structures, decompose dead materials, and recycle mineral nutrients. Introduction of chemicals such as pesticides into the system need not upset the natural balance. However, golf courses must be careful not to override the natural cycling processes or to introduce toxic materials where they can harm organisms or ecologically sensitive areas. A site analysis identifies the areas that are most important for protecting these natural processes.
Preventive measures must be in place to keep potential contaminants from entering surface waters. The building blocks of water quality protection include preventive measures (source prevention) or nonstructural practices that minimize or prevent the generation of runoff and the contamination of runoff by pollutants. Structural controls that are part of the design and engineering of the course are capital improvements designed to remove, filter, detain, or reroute potential contaminants carried in surface water. The most effective way to manage surface water is by using a comprehensive systems approach that includes integration of structural controls and preventive practices (Eaker 1994).
This comprehensive systems approach, which should be used throughout the golf course property, should stress optimum site planning and the use of natural drainage systems. Livingston and McCarron (1991) suggest that a stormwater management system might be considered as a "Best Management Practices (BMP) Train" in which the individual BMPs are considered the cars. In most cases, the more BMPs incorporated into the system, the better the performance of the treatment train. The first cars might include BMPs to minimize generation of runoff (for example, irrigation management) and pollutants (such as IPM) and the final car could include a retention pond.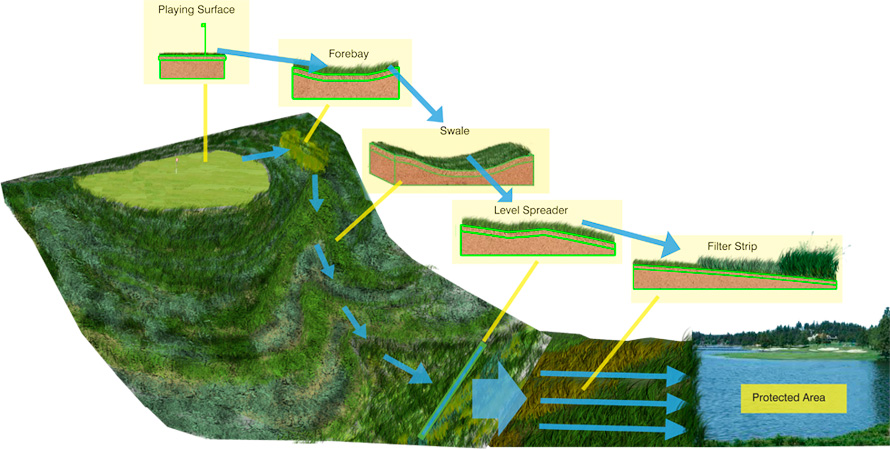 A comprehensive systems approach uses a treatment train and the natural drainage systems to protect water quality at a high priority area.
BMP Statements
Properly assess maintenance sites and golf course for priority areas related to water quality protection.
Determine most effective structural or vegetative BMP strategy, if needed.
Assess current surface and groundwater quality.
Assess effectiveness of implemented BMP strategies.
Conduct water quality assessments using accepted standards.
Use an accredited laboratory for water quality assessment.