The increased availability of improved turfgrass species and varieties provides an excellent opportunity to select the most well adapted turf to site conditions. Well adapted species require reduced amounts of inputs of supplemental fertilizer and pesticides, and if selected for drought tolerance, requires less water to survive and maintain playability.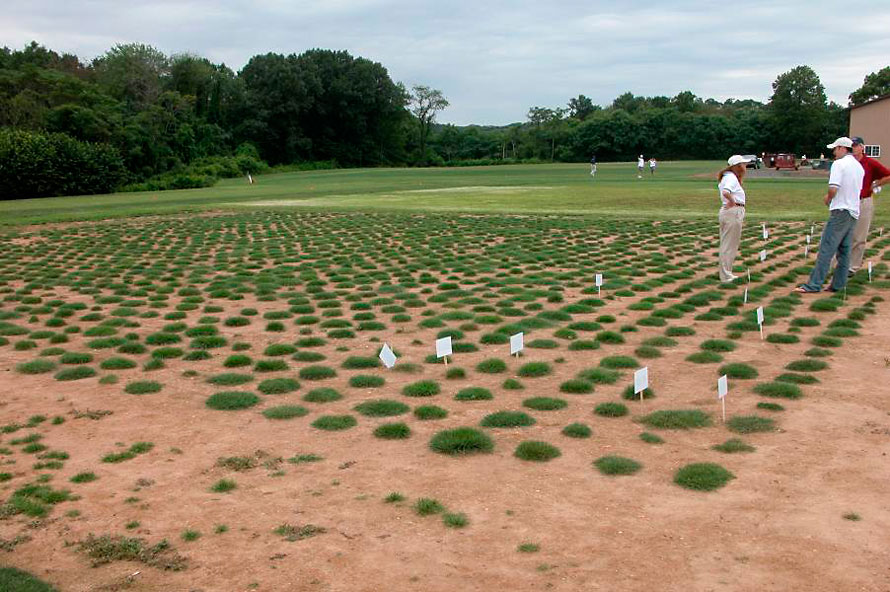 It is critical to keep abreast of the latest developments in turfgrass breeding when selecting the best species and varieties.
Source:
Frank Rossi.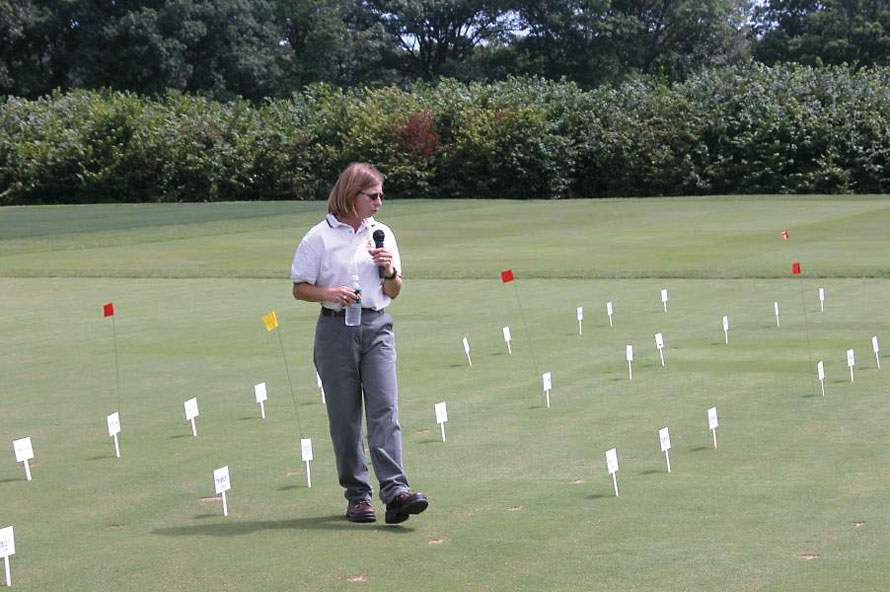 Attending field days offers great opportunities to interact with turfgrass scientists on the latest in turfgrass species and variety developments.
Source
: Frank Rossi
Climate
Highly specific and often less than ideal microclimate conditions challenge many superintendents. A common microclimate is a putting surface location with light deficits and restricted air movement. In these situations, limited options exist for proper turf selection, as these climates simply cannot sustain any turf without significant inputs. Typically, in northern climates, these adverse site conditions lead to increases in weedy species such as annual bluegrass.
Choosing the Right Grass
The perennial nature of golf turf implies that when you do establish or renovate a new turf area it is critical to choose a well adapted species and variety. Of course, putting surfaces are unique growing environments, but larger areas such as fairways could have grasses adapted to reduced nutrient levels and increased traffic tolerance, potentially reducing the nutrient loading. This is an important BMP for nutrient management. Additionally, natural areas that serve as landscape BMPs also require careful attention to finding a well adapted species. Certain grasses adapted to low inputs, reduced mowing, even submersion tolerance could be part of the selection criteria. Ultimately, it is vital to start out with a well adapted species that will thrive, meet the functional and visual quality expectations, and be sustained using BMPs.
Annual Bluegrass Invasion
Over time, annual bluegrass becomes the dominant species in turf. This invasiveness is a result of the highly adaptive and prolific reproductive capacity of annual bluegrass that favors its competitive ability over other cool season turfgrass. Therefore, regular surface disruption when desirable turf is not actively growing selects for the invasive annual bluegrass. Read more